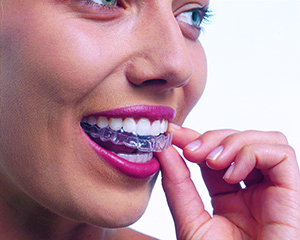 Many adults are seeking to have their teeth straightened these days but, for a variety of reasons, some patients do not want it to be obvious that they are having orthodontic treatment. Invisalign offers a discreet alternative to fixed appliances in some cases.
Invisalign treatment consists of a series of clear removable aligners. Each aligner is worn for 2 weeks at a time and puts gentle pressure on the teeth to gently align them to the desired position.They are removable so can be taken out to eat and to clean your teeth but do have to be worn for approximately 22 hours a day to be effective. The number of aligners you have to wear over the duration of the treatment depends on the severity and nature of your specific case and treatment aims. Price is dependant also on the severity and treatment aims, and these are fully discussed at the outset.
An excellent feature of Invisalign is the ClinCheck where proposed treatments and results can be viewed onscreen as a virtual animation and gives the orthodontist and patient an idea of the outcome.